Health
Governor has called for immediate changes for health agency, but also says 'give us a little time'
[ad_1]

More than a week ago, Gov. Jim Justice announced completion of an outside review of how the Department of Health and Human Resources could be more effective. Justice said he wanted to see DHHR Secretary Bill Crouch begin implementation right away.
"I have directed Secretary Crouch and his leadership team to immediately implement the McChrystal Group's recommendations. They will do so in an effective and efficient way and will ensure there is no lapse in any vital support or services for the West Virginians who rely on the DHHR," Justice stated in a release distributed by his administration.
It's still not clear what those actions are or how immediate they would be.
This week, Crouch said the agency has started the first discussions about implementing the recommendations, which mostly focus on better communication and breaking down silos. One of the major recommendations is to establish an executive leadership team consisting of seven people responsible for united leadership of agency strategy.
Crouch described a meeting among key leaders in the agency. "You will be hearing from DHHR within the next week with regard to some of these decisions," he said. "We think we're going to be up and running with new folks in new positions."
He wasn't yet ready to publicly discuss those initial steps.
"I don't need the time to begin addressing this publicly — but I need the time to speak to our staff. I think they should hear some of these changes before the public hears it, before it's sent out through the press," Crouch said in a briefing this week. He reiterated, "I really do need to let our folks to have the opportunity to hear those changes before I push those out publicly through the press.
"Thank you very much, stay tuned. You will be seeing some changes during the next few weeks."
The governor described urgency but also publicly pleaded for more time to get rolling.
"Listen, I am the most impatient guy in the room all the time, and really and truly if we have recommendations from the McChrystal folks — an absolute super reputable firm — let's get moving," Justice said.
Asked for concrete steps, Justice said he will leave the details to the cabinet secretary but he will continue to push.
"I'm not going to get into the specific things. I'm not going to get into saying 'Do this one thing, do this one thing, do this.' Since I've been here, I've let our secretaries and their organizations make decisions, but at the same time, I have absolutely stood right in the background and said 'I am telling you, I'll sit on you and sit on you in a big way.'"
But the governor added it will take time to get organized, as it has with some other state initiatives.
"If we'll just take time to breathe just a little bit and let our people get their feet underneath them and absolutely be able to really address the recommendations of this report, you'll see the exact same level of progress," he said. "We'll get this. Everybody settle down. Breathe just a little bit. Know you can't change the whole in one quick breath."
The governor added in response to a later question, "Give us a little time."
'Bold change' on communication and silos
The big picture is West Virginia's low performance on the  most challenging health and societal issues. Consultants noted that West Virginia ranks lowest for life expectancy, highest for rate of drug-related deaths, highest for percentage of minors in foster care, second highest for food insecurity and 35th for access to care.
Earlier this year, a bipartisan and frustrated spectrum of West Virginia lawmakers concluded that DHHR, the state's largest agency, is just too unwieldy to get a handle on its operations or finances. DHHR's total annual budget is $7.5 billion from state and federal dollars to handle a wide range of health and societal issues.
Governor Justice vetoed a bill that would have divided the agency, saying a restructuring needs a longer, more careful examination. The governor called for a top-to-bottom review.
The result was an outside assessment by the national consulting firm McChrystal Group, which provided a cost estimate of $503,648 for the organizational assessment of DHHR and $578,770 to develop a strategic plan.
The national consulting firm named for retired U.S. Army Gen. Stanley McChrystal reached conclusions after analyzing a survey of all DHHR employees, conducting 65 interviews, reviewing agency documents and reviews by subject matter experts. The result was a rejection of splitting the agency, but it did conclude that changes are urgent to knock down silos and improve results.
"To improve West Virginia's health and human services outcomes, the status quo is not an option; DHHR requires bold organizational change," wrote consultants for the McChrystal Group.
"However, creating two separate departments is not the change required, as doing so would divert time, funding, and leadership's focus away from serving West Virginians."
The assessment of the agency "shows a compassionate and committed workforce forms the cornerstone of DHHR. At the same time, current Department operations are not driving long-term improvements in state-wide health and human services outcomes. As such, indicators and outcomes in West Virginia continue to rank among the lowest in the country."
McChrystal's report says the agency's executive team should focus on a strategic plan and then further develop and communicate its direction.
Besides the current cabinet secretary, that would include a deputy secretary for child welfare, deputy secretary for substance abuse disorders, deputy secretary for access and eligibility plus the state health officer, the director of the Center for Threat Preparedness and a chief operating officer.
"You have existing positions but they are focused more on the historical structure of the organization. Changing those positions as well as supplementing them with some other executive leaders who are focused on strategy will allow you to have more of a strategic focus," said Meghan Bourne, partner with the McChrystal Group.
"And the impacts of not having that team currently are the siloed communications as well as a more reactive nature, where the central office is perceived as not being as responsive and proactive with their communications with the people on the front lines."
Right now, the report concluded, communication throughout the agency too often falls short to be effective: "The Office of the Cabinet Secretary – including all administrative offices – rarely seeks proactive input from the bureaus, which impacts decision-making and service delivery."
Lack of broad strategy across the agency results in fumbled priorities, the review concluded. "The lack of a department-wide strategy also results in over reliance on key leaders, further limiting collaboration and hindering teams' abilities to effectively deliver services."
The report describes silos.
"Senior leaders in the Office of the Cabinet Secretary are primarily communicating within their own group," the report concludes. "That is, these individuals name very few sources of good information outside of their own office. While the senior leaders and Cabinet Secretary are referenced in some instances as good information sources, many others do not reference them, indicating that they are disconnected from the center of the network."
Legislative questions about timeline and conclusions
Lawmakers were provided the report at the same time as the public, late on Nov. 10. Two legislative committees then went over the report during interim meetings this weekend. They were not persuaded that the review was groundbreaking or that the state got its bang for the buck.
One of the subtexts was legislative concern that the executive branch received an early draft of the report in mid-October while the public just got it.
Crouch maintained the review had been conducted at the direction of the executive branch, which needed to see it first. "We didn't release it to anyone until we had time for the Governor's Office to review it, the governor to review it," Crouch said. "It would have been inappropriate to give it out to the public or anyone else. We are the client."
Senate President Craig Blair fired back, "We represent the taxpayers' dollar" and said the report should have been shared much sooner for legislative review.
More questions about the timeline and whether DHHR has actually gotten a head start on what the report says came from Senate Finance Chairman Eric Tarr, R-Putnam. He also dug into whether the report includes recommendations that can be implemented meaningfully.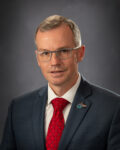 Tarr homed in on a Sept. 28 review of the executive summary and briefing that consultants provided to Crouch and other agency leaders. "So you shared that briefing before the Legislature saw a plan, saw any of this documentation, is that correct?" Tarr asked consultants who provided an overview to lawmakers during interim meetings.
The consultants said a final version of the report was emailed to the state on Oct. 17.
Legislative leaders on Nov. 1 sent a letter to Crouch asking for the report. "As taxpayer funds were used to procure this report, it is only appropriate that Senate and House members have ample time to review the report in advance of its being presented during the November interim meetings starting on November 13, 2022," wrote Senate President Blair and House Speaker Roger Hanshaw.
Lawmakers finally got the report at the same time as regular members of the public, Nov. 10, just ahead of interim meetings last weekend.
Tarr wanted to know what happened in all that time. "I'm really curious about the secretary's input between then and now," he told consultants during the interim meetings. "What was the purpose — if there was not going to be an edit — what was the purpose of the briefing to the secretary?"
Bourne, the consultant who was presenting McChrystal Group's findings, described DHHR as the client and said the agency would need first crack at seeing the report.
Tarr replied, "So if DHHR is your client, is the secretary your client?" Contractually, Bourne said, that is the case — but she expanded her answer to say Crouch stepped back during the entire process while making other DHHR resources available to the review team.
When Crouch testified, Tarr asked if he'd had any involvement in the process from the time it started.
"On the first day of this engagement, I explained very clearly that I would be stepping back and I would accept any recommendation they made," Crouch said. "The summary we talked about was the first time I heard any information about this on the final draft." Crouch concluded, "My involvement was very, very minimal."
Tarr noted to Crouch that aspects of the report got into heavy critiques of the secretary's position. Crouch said he works hard on communication with deputies, which led Tarr to ask if he disagrees with the conclusions of the million-dollar report.
Crouch replied, "I disagree with the interpretation of that and maybe I disagree with McChrystal's interpretation — if their interpretation is that there's no communication or very little communication with regard to input from the bureaus."
"So," Tarr said, "we're disappointed it and apparently you are as well. So if you don't have communication now, according to the McChrystal report, why should we expect the same secretary to have communication with deputy secretaries?"
Crouch responded, "You have to have the right deputy secretaries. And right now we need additional individuals in the deputy secretary positions. And we need that to improve communications." He concluded, "we need more leadership folks at that level, at that upper level."
Status quo is not enough 
As legislators heard from the consultants, House Majority Leader Amy Summers questioned whether the state got its bang for the buck. She asked whether Crouch had learned anything from the report that he wouldn't have known before.
This week, while speaking on "Talk of the Town" on WAJR Radio, the majority leader took a measured tone in assessing whether meaningful change can result from the consultant's findings. She said the report did confirm serious issues, but "it's almost worse than we imagined."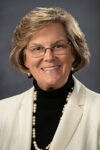 "The McChrystal report did reinforce the serious concerns the Legislature's had and the public's had about DHHR," said Summers, R-Taylor, adding that she'd anticipated a more thorough review.
"But what it really said to me was, they couldn't get beyond, as they started analyzing the structure, they couldn't get beyond that top layer of how the organizational chart is structured and how communication and information flows from there. So they had to concentrate on that and when they got to that, they realized it was inadequate and it really took up most of their time."
Asked if implementing what's in the report is enough, Summers took a long pause and a short sigh.
"I'm afraid that the things in this report are kind of Management 101," she said, "and if those things haven't been in effect all along I'm a little worried that alone is not going to fix a lot of the issues that we have."
Summers concluded, "What their report is really crystal clear on is the status quo is not an option."
Listen to "Talk of the Town | November 16, 2022" on Spreaker.
[ad_2]

Source link